Drain cleaning
We offer drain cleaning services for all kinds of stoppages. We carry three different sized snakes on our trucks and can clear hair from a shower or tub, clear food waste from the kitchen sink line, or cut the roots out of the main sewer line in your yard. We each carry a sewer camera on our truck and we can inspect your sewer lateral for breaks or other problems. We can even give you a DVD of your line on site. We can locate a problem spot and give you options for temporary to permanent solutions depending on your situation.
We have hydro-jetting equipment to clear grease and sludge stoppages. A hydro-jetter is a high pressure hose that we put down a line. It has a 3,500 PSI spray head that literally scrubs the inside of your line. This is very affective at breaking up grease or sludge stoppages in a line. We also use the hydro-jetter to clear dirt and debris from area drain lines.
Leaks and
r

epairs
We are experts at general plumbing repair. We can fix the leaking shower valve, kitchen sink faucet or exterior hose bib. We can stop leaks in toilets, fix a water heater that will not heat, locate and repair the leaking water line in your yard or under the house.
If replacement is preferred or required, we supply only highest quality brand name parts and stand behind them with a full one year warranty. Owners are also welcome to supply their own parts, but we will not cover any warranty on them. We are straight forward about life expectancy of fixtures and price differences between repairing the old or replacing with the new.
Remodels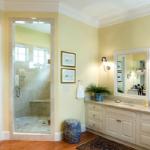 We perform the plumbing aspect of residential home remodels. If your kitchen, bathroom or laundry is in need of a renovation, we can do it. Because service and repair is the main bulk of our work, we know where and why most plumbing problems occur and we can eliminate most future issues while we are performing your remodel. For example, if needed, we will remove the old galvanized waste and water lines from behind the kitchen sink and install new piping through the floor instead of connecting to the existing pipes in the wall. This removes the chance of a 60 year old pipe rotting out a couple years after your remodel was completed and having to reopen the wall.
Water
h

eater repair and replacement
No hot water? We can fix it. We have the knowledge and experience to fix your tank or tankless water heater. Don't forget that your tankless water heater needs to be descaled every year to maintain the warranty, efficiency and life expectancy of certain brands.
Water heater leaking? We are experts at replacing residential water heaters. We can usually get your leaking water heater replaced within 24 hours. Call us for over the phone pricing for tank style water heaters. Our price includes a new water heater, new water and gas connections, earthquake strapping and the required labor. Please inform us if your water heater is in a hard to access area or if it is on a wooden surface.
We have solutions for getting hot water to your fixtures faster. From recirculation pumps for tank style water heaters to high flow on demand pumps for tankless water heaters, we can save you water. Call us to discuss your options and see what's right for you.
Video
s

ewer line

i

nspection
We can inspect 3", 4", and 6" sewer lines and supply you with a DVD copy of the inspection. We give honest advise about sewer replacement, repairing a single joint, or maintenance snaking of the line to keep it open. We can locate the sewer line and even estimate the depth of the line. If you are having reoccurring sewer problems, we can find the problem and give you a solution.
Backflow
t

esting and repair
We currently have three certified backflow testers. We will test backflows for the cities of Petaluma, Penngrove, Cotati, and Rohnert Park. We perform our backflow test at a reduced rate if the paperwork is mailed to us along with pre-payment and the device is accessible at any time. If a scheduled appointment is required because of a locked gate or box, dogs, or convenience, we charge our hourly rate. We will then file the paperwork with the required city after the test. In the event of a failed device, we will contact you with a price for repairs before any work is performed. Please contact us for our testing fee and more information.
| | |
| --- | --- |
| • Sewer snaking | • Ice maker lines |
| • Sewer jetting or hydro-jetting | • Garbage disposals |
| • Sewer replacement | • Recirculation pump and systems |
| • Cleanout installations | • Pressure reducing valves |
| • Sewer video inspections | • Expansion tanks |
| • Area drain cleaning | • Backflow testing |
| • Faucet repair and replacment | • Backflow repair and replacement |
| • Toilet repair and replacement | • Dishwasher installation |
| • Commercial toilet and urinal repair | • Gas line installation |
| • Water heater repair and replacement | • Gas fireplace installation |
| • Tankless water heater repair amd replacement | • Earthquake gas shut off valves |
| • Main water service repair or replacement | • Kitchen, bath, and laundry room remodels |
| • Water shut off valve installation or replacement | • Home plumbing inspections |